"Afternoon at the Improv II"
Sew Day at The Quilt House Sat. June 13th 12:00 p.m.

Floating Squares Score practice
Lincoln Modern Quilt Guild would like to invite you to join with us as we learn about improvisational piecing. Using books, tutorials and trial and error, we will explore what improvisational piecing is all about.

Simple techniques will be discussed at the beginning of the sewing sessions and everyone is welcome to share their knowledge and experiences.
****Discussion will start at 12. There are many activities at the Museum with the opening of the new Galleries so we will not have tables to work on until 1:00p.m. We will hold our discussion and show and share until the tables are available.
Session dates:

April 11, June 13, Aug 8, Oct 10, Nov 14, Dec 12
Many of you were able to attend the presentation by Sherri Lynn Wood at the First Friday festivities. Her new book is: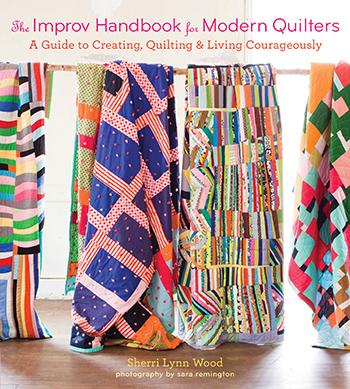 Sherri covers many techniques for getting started in Improvisation. One of the scores from her book is called "Floating Squares". The large quilt you see below is an example of this score. If you would like to give this score a try amongst friends, bring the supplies listed at the bottom of the photo.
If you have Sherri's book then you can read over the first chapter on this score and bring what you would like to work with according to the limits you have set. If you do not have her book, please bring 2 fabrics in limited quantity (ex: FQ or 1/4th yard) and one other fabric in unlimited quantity (this is the filler piece used throughout).
Other items to bring: Sewing machine and basic supplies needed for it. Ironing surface and iron to share with others. If you want to have a rotary cutter and mat that is fine but no need for a ruler!!!
Others that just want to sew will be able to work on any project they would like and please bring things to share and show!
Please follow us on FB or here on our website for changes or updates:
https://www.facebook.com/LincolnModernQuiltGuild
Anyone is welcome to come and share and learn. If you have questions you can comment below or message me at kristiejarchow@gmail.com.