Saturday March 19th is

National Quilting Day

at the International Quilt Study Center and Museum from 9 - 3. Our guild will be on the second floor demonstrating improv piecing and cutting throughout the day. Nancy Goff will be demonstrating tessellations and Sheila Green will be giving a talk at 11:00 and again at 2:00 on What is Modern? Lots of fun activities and admission is free so bring your family and friends!!!!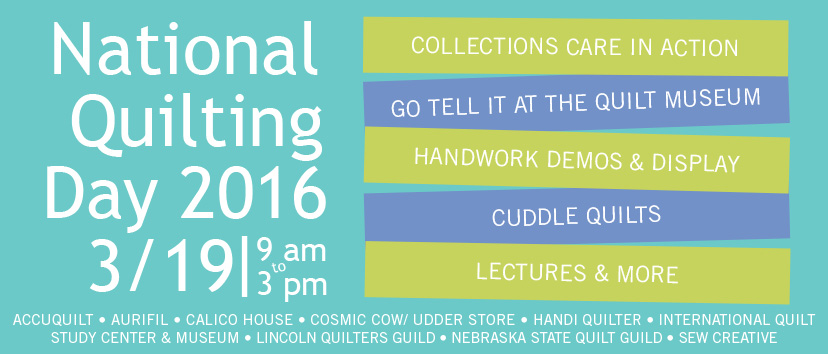 Feb. meeting highlights:
---Taura Horn gave us information about photographing your quilts. What to do and what not to do to have successful quilt photographs. Once you master a few tricks you can enjoy prints of your works, share them or keep them in an archive. You might even be interested in entering a contest or show with your beautiful quilt photograph!
---
Our wonderful exhibition of members works hanging at The Bernina Sewing Studio slowly came down. We had a huge turnout as far as visitors to our show. Great big "Thank You" to all who participated to make this happen!!!
---Photos from Show and Share
---
Hmmm, needing some lessons in photographing happy children? ( I just had to stick this one in here of a member taking a pic of our Taura Horn).
---and finally....Habitat for Humanity family received the quilt our guild made. This was such a wonderful experience to see our quilty hard work go to a lovely family! Thank you again to all who participated in the making and sharing of this quilt!
Reminder that the Try Angles challenge will be due at the March 29th Meeting! I hope you gave this a TRY and made something with some type of angle and maybe you tried some of the Modern elements to make this come together? Prizes will be awarded so it is not to late to get started!!! Any questions contact us at info.lincolnmqg@gmail.com
March Meeting: Sheila Green will share all about QuiltCon. Come join us and learn about the International Modern Quilt show. Don't forget about the Riley Blake Challenge "Sashing Stash" fabric. If you have some to share see if anyone else wants to do the challenge.
Exciting event coming up: Victoria Findley Wolfe will be here on June 9th and is teaching a class at Quilt House. If you would like to sign up you can read about it in my link and call the IQSCM to sign up.
Thanks for stopping by!